Amelia G and Forrest Black could easily be considered the OG's of alternative erotica. The founders and driving force behind the influential Blue Blood Magazine, they have since gone on to produce such groundbreaking websites as BarelyEvil.com, GothicSluts.com and the newly launched Swag Magazine and RubberDollies.com. Before there was Suicide Girls, there were the Blue Bloods. They were a big influence behind the conception of this website and we couldn't pass up the chance to give them some well deserved props. We had a chance to speak with them and here's what they had to say: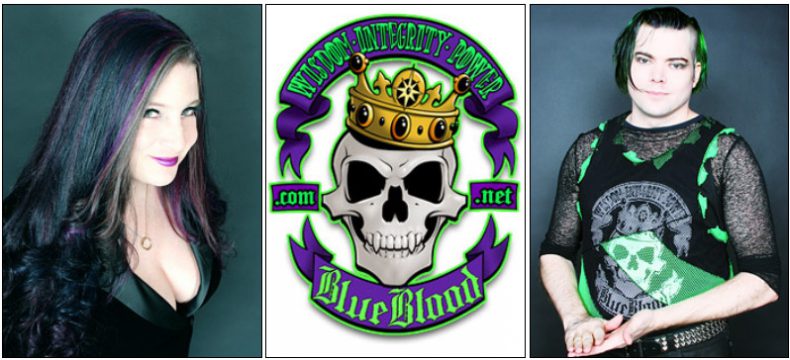 Thanks for taking the time out to grant us this interview. So I guess let's start from the beginning. How did you get started in this crazy business?
Amelia G: Hard to say what exactly started it. Certainly initially I didn't really think of it as a business at all. I've just always been driven to create and artistically I wanted to represent the life I've chosen. The first project Forrest Black, who edits Blue Blood's BarelyEvil.com, and I collaborated on was BLT aka Black Leather Times. BLT was a punk rock zine I was doing in DC and Forrest took that baby and turned it in a really well-designed punk rock zine. Forrest created an archive of some of those issues people can see now at www.blackleathertimes.com Eventually, I wanted to do something glossier and so Blue Blood was born. Blue Blood was a really seminal print magazine in that it really pushed the envelope on conventional ideas of what is beautiful and what is sexy. Now, it seems like every other day, someone is putting up a site with pictures of alterna-hotties, but, at the time of Blue Blood's beginning, the notion that a girl with purple hair could be seen as attractive was really radical. Of course, our sites are influenced by what we did in print before, but every single decent-sized altporn site on the net today is run by someone who owned a copy of Blue Blood Magazine before they launched. I don't really like the word altporn, but that seems to be what people are calling these sorts of sites. I prefer the terminology counterculture erotica.
Did you have previous apirations of being the head of such a growing atl/gothic enterprise, or did it just sort of evolve into what it is today?
Amelia G: I always wanted to be influential, to make a difference in people's lives, to have some impact for having lived. So I'm pretty pleased at some of the differences I feel like I've been able to make. Sometimes biters get me down when they don't give me props, but I wanted to inspire people; that was one of my main goals. The internet aspect was not wholly predictable as the World Wide Web was limited primarily to university email accounts when Blue Blood started off. But I love the way the internet lets us reach so many people into what we do, without having to go through some stodgy old magazine distributor who just does not get it. Print publishing will always be my first love though.
Do you do all of the design yourselves?
Amelia G: Occasionally, we will have friends help out with certain aspects, but the design is primarily Forrest's baby. I keep coming up with projects and he keeps making them look incredible.
Do you consider yourselves more photographers or designers?
Amelia G: I am definitely more a photographer. I can do production and I have a strong print design background, but design is way more Forrest's department. For photography, he and I tend to trade off the camera so often during a shoot that we have no way of knowing who actually shot any specific final image. I'm also a writer and I've had my work featured in award anthologies including Best SM Erotica, Best Women's Erotica, and Susie Bright's ground-breaking Best American Erotica.
Forrest Black: To be honest, doing photography was a bit more of a surprise to me than most people would expect. I came at is as a designer. I knew what I wanted on the page and had some trouble getting other photographers to deliver what exactly I wanted. Even if I loved some of the stuff they shot, they would still deliver what they liked instead of what I chose for layout and such. It was frustrating, but I figured it made sense to learn their perspective. Now I understand more of their concerns from that time, but I am also very happy being able to capture images that so perfectly fit Amelia's and my vision. Coming at it from that background gives me a lot fewer competitive issues than a lot of other photographers though. If I like someone's work, I'm not all envious and bitter, I just want to work with them and show their cool stuff to the world too. That's how I think it should be. Not some dumb king-of-the-hill game. I also don't tend to overdesign our images either. I like them fairly simple. To me, the subject is the story or focus, not some costume/filter/set or junk I put over them. I'd rather design a cool site or page to compliment the image of the real personality we shoot.
Do you still create all your content or do you purchase much of it these days?
Amelia G: I have always been committed to presenting the creative output of people besides myself. Yes, between us, Forrest Black and I could probably write and shoot and pretty much do everything, but I want there to be more cool art in the world and I want to encourage people to create. That has always been a prime motivator for me. Photographers who would like to submit to one of our sites should just email the site they think their work would best fit. Info they should include is a little bit about themselves, sample jpegs or URL, how many pictures are in a series they have on offer, and what happens in the photoset. Contact information is usually on the About Us page on any of our sites. Writers can email sadistintern@blueblood.net with a list of previous credits and story ideas, especially ones about music, fashion, comics, interviews, site reviews, that sort of thing.
So you've recently launched Swag magazine and Rubberdollies.com. Your sites all seem to compliment each other really well. What sorts of things do you have planned for the future?
Amelia G: Sometimes, because some of our stuff is nude and some is not, people see our work as being sort of more disjointed than I do. You are 100% right in that everything we do complements everything else and it really is all of a piece. We create and put out artistic representations of cool people. I am so so so pleased that you see the big picture on that!
Forrest Black: I really enjoy getting the opportunity to do different projects because it lets us explore different themes without always changing the things people already like. SWAG is a non-adult magazine exploring fashion and style for successful cool people. We're not all 19 anymore and some of us want something a little higher-end than the mass-produced crap at Hot Topic or whatever. We wanted to show off the amazingly hot stuff that we've discovered, and hopefully influence people to dress even better. It was also about entitlement issues. RubberDollies.com is a showcase for awesome sexy latex fashion and the world class models involved in that scene. It allows us to share years of hot latex fashion we've been shooting, as well as works from top designers and photographers from around the world. We give members access to many of the columns and photos Amelia and I create for international fetish magazines as well as tons of great stuff never seen before. I wanted a really candy design for that one, and folks seem to love it. Some people seem to think GothicSluts.com has a bit of a rude name, but I kinda think they missed the point. It's really simply the biggest collection of Gothic erotica available. It's really all about super styling pin-up photography featuring the more sexual side of the culture. We set out to work with the awesome cool girls we know that own their sexuality. It was launched when there were no real sites like it. We wanted a place to put pictures that the magazines thought were too spooky because we didn't want to shoot dumb wigs and cover cool girls' tattoos. After all, nobody used the terms Gothic Erotica together before we came along. However, not everything we shoot is strictly Gothic. BarelyEvil.com is all about those crazy wicked little trouble makers. Sexually aggressive bad girls getting into mischief. It's a fun site. It's a bit more lewd, but in a light-hearted silly way. Coming out of a magazine background drives us to keep themes and audiences in mind, and each of our sites has it's own sort of unique membership culture and social feel. There is some crossover, but people tend to have strong favorites. Who knows what the future will bring. I have a lot of ideas, but sometimes I get a lightning bolt, and two or three days later we have a new project in the works.
Will you mostly be sticking to media or do you have any plans of marketing any products? Lunchboxes? Comic books? Sanzora action figures?
Amelia G: I love all of those imprinted things and toys and everything! People should just email us and tell us what they want us to put out and I'll jump at the excuse to make more cool stuff.
Do you have any concerns about some of the new adult obcenity issues and laws being brought up these days?
Amelia G: Nope. We have always been careful to keep good paperwork. We don't shoot any activities which might be questionable, even when our models really want to. From an ACLU-supporting viewpoint, I am always concerned about anything which might limit our freedoms, but I am not personally at risk.
What sort of advice would you give to an up and coming fetish model?
Amelia G: Don't decide to become a fetish model because it is trendy. Only do it if you really want to do it. Be introspective about your reasons for wanting to do it. Decide what your comfort zone is for aspects such as nudity, bondage, restricting clothing and stick to your guns. Don't let anyone talk you into doing something you are not comfortable with. By the same token, if you want to be successful, make sure you present yourself to photographers the way you will be on the shoot. If you agree to a time, show up then. If you agree to a certain level of nudity, don't act surprised when the photographer expects you to do what you agreed to do. If you agree to bring your own latex wardrobe, don't show up with all stripper clothing in your suitcase. If you sent a photo of yourself with green hair and facial piercings, don't show up blonde with no piercings without having mentioned the change. Basically, communication is key. That and of course you have to shoot with Amelia G and Forrest Black. Incidentally, interested models can send jpegs or URLs with sample pictures of themselves to sadistintern@blueblood.net with info on what sorts of shoots they are interested in, where they are located, and what publications online or in print they are interested in appearing in.
After a long day of doing porn what do you both do to unwind?
Amelia G: Hey, it is erotica, not porn. I've always liked to read. I recently got TiVo, so that has upped my television-watching, but at least there is no aimless channel-surfing. I like good food, but I don't have a lot of time to eat out. I go to a lot of shows and club nights, but that is sort of part of what I do during the day, so mostly I just never stop.
Forrest Black: I think there are some people these days that spend much of their productive time just making obscene representations, and I think they do need more of a break from it. We keep a good balance. We shoot a lot of fashion, unique subcultural portraiture, music related materials, and other cool stuff related to the scenes we represent. It's sometimes a challenge to present the big picture of what all we do, but I think the mix keeps us a lot less burned out. A girl or a boy in great clothes rocking a stage or catwalk is at least as hot to me as a naked one. We set out many years ago to let people know that our kind of people were super sexy and sexual in addition to all the other cool stuff they did. I think we accomplished that goal. However, for a break from it all, I like to sometimes go out on rare occasions and actually pay cover, hide in a corner and pretend nobody knows who I am. I like to just listen to the music, watch the flashing lights, hide in the smoke machine fog, and take it all in like some sort of visitor or tourist. Disconnect. No obligations. Or, play XBOX Live and shoot screaming French children a lot, hahah. I like that too.
When was the last time you danced with the devil?
Forrest Black: Well, it depends on what you mean, I suppose. There are a lot of different interpretations of what exactly the Devil is. From a LaVey perspective, Satanism is really kind of proud, if a little elitist, individuality. In that theme, we have been dancing for many many years. We do what pleases us, and we don't create things we are ashamed of. We don't use fake names to cover less than pure activities which we wouldn't be comfortable standing up for. Purists recognize that as perhaps a devilish confrontational act, but I think it's the only way to be able to live with yourself long term. Yes, I know that some of our work scares some people and I'm not ashamed of that, but it's also not exactly my objective. Honesty scares people too. To shy away and misrepresent things as all nice-nice, or all terrifying and brutal for that matter, would be false, even if some people would mislabel it as being 'good'.